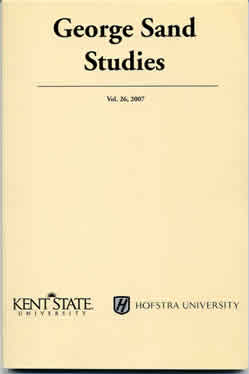 GEORGE SAND STUDIES
Vol. 26, 2007
SOMMAIRE
Éditorial (Françoise MASSARDIER-KENNEY, Isabelle NAGINSKI,
   David POWELL).                                                                 1
Articles
James F. HAMILTON : Sand's La Mare au diable, the 'Appendice' as
            Peasant Ritual and Narrative Closure.                                 3
Marie-Christine GARNEAU DE L'ISLE-ADAM : Du côté de chez Virgile,
            à l'ombre des Géorgiques en fleurs.                                    15
Monia KALLEL : La voix perdue de George Sand et Marceline
            Desbordes–Valmore.                                                          28
Kioko MURATA : Sous le signe des « monstruosités » : la Camille
            Maupin de Balzac et George Sand.                                    43
Marianne LORENZI : George Sand, 1832-1842. Une esthétique de la
            simplicité.                                                                            55
Elena PATRICK : George Sand's Mauprat : A Gendered Way from
            Aristocracy to Bourgeoisie.                                                 73
Claire LE GUILLOU : Bibliographie commentée des publications
consacrées à George Sand de 1833 à 1876 dans la presse
            berrichonne.                                                                       88
Compte-rendus
Sophie MARTIN-DEHAYE :  George Sand et la peinture. Royer /
Saga lettres, Paris, 2006. (Alexandra K. WETTLAUFER)                   101
Bernard HAMON : George Sand face aux églises, L'Harmattan,
            Paris, 2005. (David A. POWELL)                                          105
George SAND : The Marquis de Villemer. Trans. Jeanne DREWSEN, Mercer Arts and Letters, LLC, New York, 2007.
            (Shira MALKIN)                                                                  107
Nécrologie
Nathalie BUCHET ROGERS (Catherine MASSON and al.).                   112
Christine CHAMBAZ-BERTRAND (Béatrice DIDIER).                         113
Enid STANDRING (Marie COLLINS).                                                                     115